Phil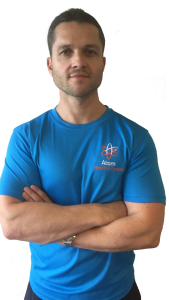 Phil is one of the founding partners of Atom and brings a wealth of experience
from years spent as a personal trainer. His early interest in health and fitness
evolved into a career in the fitness industry and the creation of Effective
Personal Training, operating a large client base across the North East and North
West. He has a broad vision of what fitness training should encompass and a
philosophy that results are attainable for all.
"The most important thing I have learned in my time as a trainer is that
achieving goals is the result of really taking the time to understand your
client. Understanding what they are going to respond to in terms of coaching
technique is much more important than the specific training or nutrition method
that you decide to use. If you can inspire and motivate a client and empower
them to enjoy training then a lot of the hard work is done. From there the
implementation of correct training and nutrition is pretty straight forward as
are the results which will follow "
Phil also works hard to ensure his PT team follow the same philosophy.
Specialities :
-Injury prevention and correction
-Sport specific strength and conditioning
-Golf specific programmes
-Body composition changes
-Diet and nutrition
Qualifications :
Personal trainer
Core ball and foam roll qualified
NASM corrective exercise
NASM lower back pain management
Jordan olympic weight lifting