Phil Lamb – Director: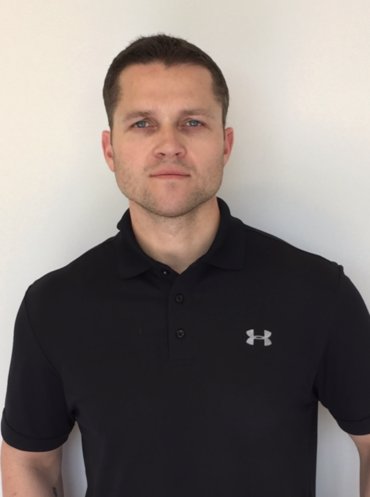 Phil is one of the founding partners of Atom and brings a wealth of experience from years spent as a personal trainer. His early interest in health and fitness evolved into a career in the fitness industry and the creation of Effective Personal Training, operating a large client base across the north east and north-west. He has a broad vision of what fitness training should encompass and a philosophy that results are attainable for all. His vision was to establish a health and fitness centre which can deliver the individual attention that every member deserves in order that they can achieve.
Gary Gibson – Director:
Gary is the other founding partner of Atom and brings a love and passion of health and fitness to the team. He combines this enthusiasm with his commercial acumen to work with Phil in delivering the most innovative and exciting gym in the Teesside and Durham areas. You'll find Gary frequently loitering around the place and if you fancy a chat about the gym he'd love to hear from you.
Agnes Knutelska – Head Yoga Instructor: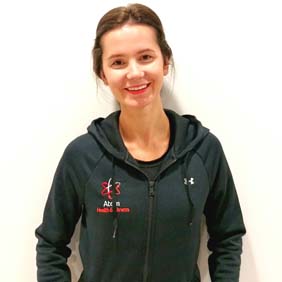 Agnes is our in-house expert hot yoga instructor and among other things has completed the Absolute Hot Yoga Instructors course in Thailand. She brings a wealth of experience from years spent in the health and fitness industry to her role within the Atom fitness team. Agnes has worked in various health clubs throughout the UK in a number of roles. Not only is she a qualified yoga instructor she also has a Level 3 personal training diploma and can deliver small group or one to one personal training sessions. Agnes specialises in working with clients whose primary objective is to lose body fat and improve lifestyle. She has had considerable success with individuals who appreciate her no-nonsense effective style of delivering results.
Ben Raw – Health Bar Supervisor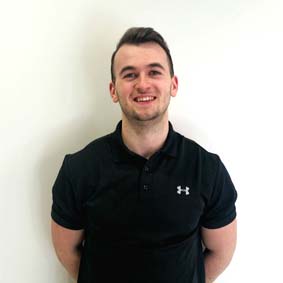 Ben comes to Atom with substantial experience as a head barista and a passion for health and fitness. Ben is responsible for overseeing the health bar within the club and will be happy to craft your perfect post work out coffee or smoothie. He is also a key member of the class team and is currently undertaking a personal training qualification. As he progresses we look forward to seeing him merge his talents and develop into a role within the personal training team.
Pete Sweeney – Personal Trainer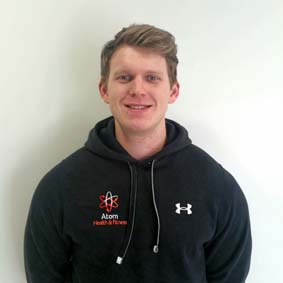 Pete is part of the personal training team, having developed an interest in personal training through his love of all things to do with health and fitness. You'll find Pete brings a sense of infectious enthusiasm to all of his training sessions and before you know it, you'll be loving your workouts. In his own words, he says:
I started studying exercise and fitness in 2008 before becoming a firefighter. During my 4 years working as a firefighter I continued with my qualifications in fitness & exercise ensuring I was as up to date as possible with the latest research and techniques. I then began working here at Atom Health & Fitness as a Personal Trainer, since then I have had endless success with a wide range of clients, ranging in age from 16-69, and from students, international business women to doctors.
My Fitness Journey: I began using a gym at the age of 16 after years of knee injuries, as I needed to keep my muscles strong due to ligament damage. I had always played sport however due to these injuries this was no longer a realistic hobby, this is where I became hooked on the gym. Since then I have never looked back, becoming fortunate enough to make a career out of a hobby.
Michelle Davies – Personal Trainer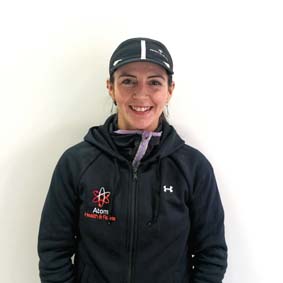 Michelle is a level 3 qualified personal trainer and nutritional advisor. She is vivacious and outgoing and will soon infect you with her amazing levels of enthusiasm for all things fitness. She leads a number of our classes in MMA fitness and spinning and bundles a huge amount of energy in everything she does. Check out her classes and if you're up for that extra level of commitment try her out as a personal trainer and she will help you achieve all of your fitness goals in a fun exciting way.
Craig Maskell – Group Training Coordinator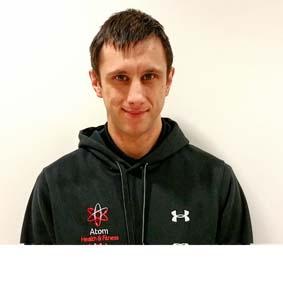 Craig is a level 3 qualified personal trainer and has an excellent skill set that he brings to the class timetable. He is our lead Boxercise instructor and also specialises in circuit training and small group PT. Craig was previously a member of the armed forces so is well versed in getting the best out of people, he also has experience in amateur boxing and MMA. He combines his many talents and varied experience to produce group training that is not only a seriously effective calorie burner but also fun and interesting.